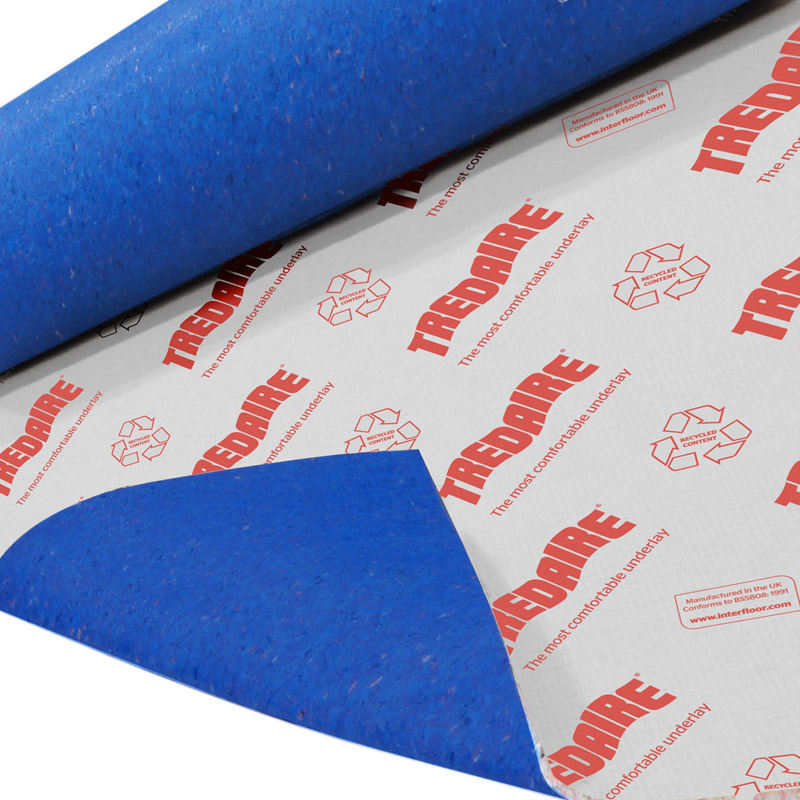 Tredaire underlay has built a reputation as the most comfortable since its launch in 1954. With a range of 28 underlays Tredaire has products to suit all budgets and is ideal for retailers wanting to offer "Good, Better, Best" options. Its natural springiness makes it ideal for living rooms and bedrooms where the customer wants to protect the carpet but also have a genuinely luxurious feel underfoot.
17 Tredaire underlays are designated as Luxury under British Standard BS5808. Manufactured from either PU foam or sponge rubber Tredaire is synonymous with underfoot comfort. Some of the most comfortable underlays include Sensation (11mm, 145kg/m3) Dreamwalk (11mm, 110 kg/m3) and Titanium (9mm, 160kg/m3) from the PU collection, and Colours Red (11.4mm, 357 kg/m3) and Colours Green (10.3mm, 362 kg/m3) which are made from sponge rubber.
All Tredaire underlays are manufactured in the UK, in Haslingden, Lancashire, and they are supported with market leading POS including A3 samples and swatch books. Most of them use Textron backings for greater strength and stability and the packaging designs and colour coding help the product to stand out so that they are easier for retailers to manage and sell.
In addition to comfort Tredaire also offers best in class sound insulation with Colours Red being certified at 46dB, and best in class heat insulation with Dreamwalk being certified at 3.13 togs. So, if the customer wants a quieter and cosier home Tredaire has the best products to meet that need.
Interfloor provide further support with sales tools including their Underlay Selection Guide and their Underlay Selector. This has proved successful for retailers who want to show a customer which Tredaire and Duralay products are best for their application. The Selector features over 50 branded underlays and they can be sorted by comfort, durability, sound insulation, heat insulation and suitability for underfloor heating and wood and laminate floors.
Interfloor also provides extensive retailer support in terms of product and sales training, complementary accessories from their Gripperrods and Stikatak ranges, and advice on maximising profitability through the product range.