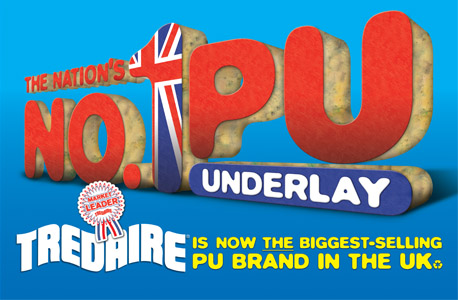 Tredaire, the biggest selling UK underlay brand, has become the market leader in PU.
Interfloor have announced that Tredaire has become the biggest selling PU brand in the UK. The Tredaire brand, which began in 1956, has been number one in sponge rubber for a number of years and only commenced PU production in 2000. "Our growth in the last two years has been phenomenal", says Interfloor sales director Gary Cowley." We've had a remarkable response from the trade, and with growth rates at over 60%, we're delighted to see Tredaire as the number one. This means that Tredaire is now the market leader in both the PU and sponge rubber sectors. I would like to thank all of our Tredaire retailers and distributors for their support in making this happen. However it's a very competitive market so it's vital that we continue improving our products and service."
Interfloor manufacture 35 PU underlays, more than any other UK manufacturer. These include three very successful ranges: Dreamwalk, Softwalk and Cosywalk, high density (110 kg/m3) with thicknesses from 7 to 11mm; Sensation, Contract 9 and Contract 7, ultra high density (145 kg/m3) with thicknesses also from 7 to 11mm; and Zest and Brio, medium density (98 kg/m3) with thicknesses at 10mm and 8mm respectively. Over the last year Interfloor have expanded the range into ultra high density products, double stick underlays for contract applications (Contract 9 and Contract 7) and will soon be announcing a new range of flame retardant PU underlays.
Gary Cowley emphasises the benefits that Tredaire brings to retailers, "We believe there are three significant advantages for retailers in stocking Tredaire PU underlays. Firstly, performance. Our products are up to 10% denser than other leading brands, so you got more for your money. Our products are colour coded, for ease of identification, and we use the best backings, such as Textron, to provide extra strength and structural integrity. Secondly, sales and marketing support. We believe that we give our customers the best sampling service in the market and our experienced territory managers help our resellers to sell the products through. Finally, Tredaire has the highest consumer brand awareness for underlay so the products can be sold with confidence."
Interfloor continues to invest in marketing tools that help the retailer to sell and up-sell underlay. The Company produces over 200,000 samples per year for point of sale use in store. Their Profit Ability programme is well established in over 500 stores and it incorporates an underlay foot tester stand, so that the consumer can feel the benefits of underlay, plus consumer leaflets, samples, hanging boards and posters. "We monitor the stores that use it and they sell about 10-15% more than stores that don't. The foot tester stand enables the consumer to feel the difference that a new underlay makes. It's all part of our drive to help retailers maximise their sales and profits. By working with the Tredaire brand retailers can maximise their sales and profits. In the current economic climate that has to be good for business," says Cowley.