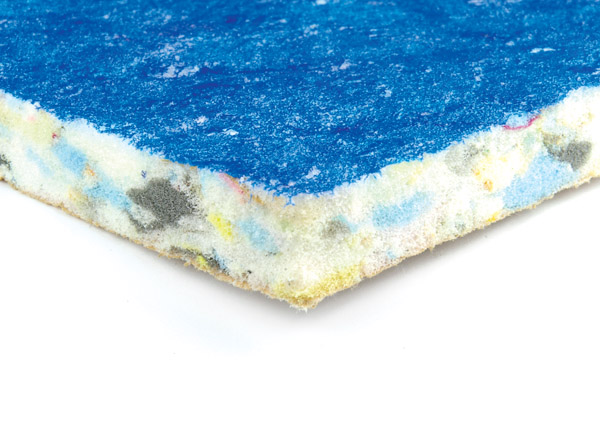 While the economy is still reporting slow growth in the UK, one company has seen a significant upturn with more than 500 new customers, and a brand new PU underlay production line.
Following a successful marketing campaign to encourage the trade to sell more sponge and crumb rubber, Interfloor is now set to become the leading manufacturer and supplier of the PU alternative within the next 12 months.
Interfloor has been expanding its product portfolio and beefing up its PU capacity. Gary Cowley, sales director explains: "Our role is to manufacture and market the underlay products that customers need. There has been an increase in the demand for PU and we have responded in a big way. Our manufacturing plant in Dumfries has introduced a new, state-of-the-art line to produce our PU. We've increased our range of Tredaire PU underlays to eight, the latest of which, Tredaire Contract 9, is an ultra high density 9mm domestic underlay suitable for double stick applications. We've overtaken the number two manufacturer and at our current rate of growth we expect Tredaire to become the number 1 brand for PU in the next 12 months."
Interfloor has also been campaigning to build awareness of the benefits of traditional sponge rubber and crumb rubber underlay. The Campaign for Real Underlay has been active through the trade press, direct marketing, email, web and point of sale since early this year. It has been highly successful in promoting the benefits that rubber underlay offers in terms of consumer preference, performance and enhanced "sellability." As a result, we've seen an increase in customers buying rubber underlay and the growth in some of our premium products, such as Tredaire Colours Red and Duralay Kensington Deluxe, has been outstanding," says Cowley.
Following a successful marketing campaign to encourage the trade to sell more sponge and crumb rubber,
Another reason for the company's recent success is that they are helping the retailer to increase their sales by selling more products to consumers who wouldn't normally have purchased an underlay. "Rarely does the consumer ask for an underlay product by name, although they do have some recognition of the brands, especially Tredaire and Duralay. We've provided point of sale stands, as part of our Profit Ability programme, so that consumers can stand on the underlay and feel for themselves the quality and the difference which a superior product adds to a new carpet.
"This not only makes customers more likely to buy a new underlay, but also more likely to buy a better quality product."
Interfloor has worked with hundreds of retailers, via the Interfloor Profit Ability programme, to help them sell more underlay. More than 80% have increased volumes by 10% or better – some by as much as 100%.
"At Interfloor we can help retailers sell more underlay and get better margins in these tough times. Of course the recession has affected the volumes which retailers have been able to sell, but by offering a better selection and selling in the benefits to the consumer, we are starting to see a real difference in volumes– plus the consumers love the products."
Interfloor, the only major underlay manufacturing company which is wholly UK-owned, has made customer service and marketing programmes a priority in recent months. "One reason why the company is going from strength to strength is because we listen to what our customers are telling us and then act on it. We identified opportunities to improve the speed and responsiveness of our delivery service, to extend our product range and to provide enhanced marketing support to our customers " says Sales Director Gary Cowley.
"We have invested heavily in improvements to our customer offering, and that includes a faster response time to orders, greater flexibility, and an updated fleet. All of our tractor units are now less than a year old, with most of the trailers having also been replaced. With fuel efficiencies, lower emissions and a tracker system to enable timed routes, deliveries can be accurately timed to maximise convenience for our customers."
And if that wasn't enough, the company now exports to more than 70 countries as far afield as Russia, Africa, the Middle East and China. Interfloor rubber underlay is the preferred choice of many of the world's leading hotel groups including Hilton, Marriott, Sheraton, Intercontinental, Hyatt and Jumeirah.
"They will only choose the very best and we're delighted that they choose Interfloor. One of the most high profile customers includes the latest major five star hotel in Dubai, The Atlantis, with around 1,500 rooms, which has more than 100,000 square metres of Interfloor rubber underlay. But we had already supplied underlay for the 7 star Burj Al Arab, and the tallest building in the world, the Burj Khalifa. We are also contracted to replace underlay in all of the mosques in Abu Dhabi.
But the story isn't just about underlay. Interfloor also provides more than 800 flooring accessory products including carpet gripper, profiles, adhesives, tapes and fitting tools. Interfloor is the only manufacturer of carpet gripper in Europe, through its Gripperrods product. "And we have also invested heavily in this product too." said Gary. "We have changed and improved the product's look and quality so that it is now the best performing gripper product in the UK. We're the only manufacturer to use Russian birch – the best type of plywood for gripper due to its superior strength and consistency. There is competition from plywood made from poplar but we don't recommend this as it's softer and more prone to "bowing"."
"Interfloor is a very solid business, built on many years of trading, but we actually care about the products we supply and about the service we give to our customers. Customer service is of paramount importance, as is the range of products and offering value for money."
Gary has been at Interfloor, and previously Tredaire, for eleven years and he sees the improvements in marketing support and customer service. "We've listened and we have worked hard to improve our service. We believe that we offer more value to our customers because we can give them the brands, products, marketing support and customer service to help their businesses thrive. At the end of the day that's what really matters."