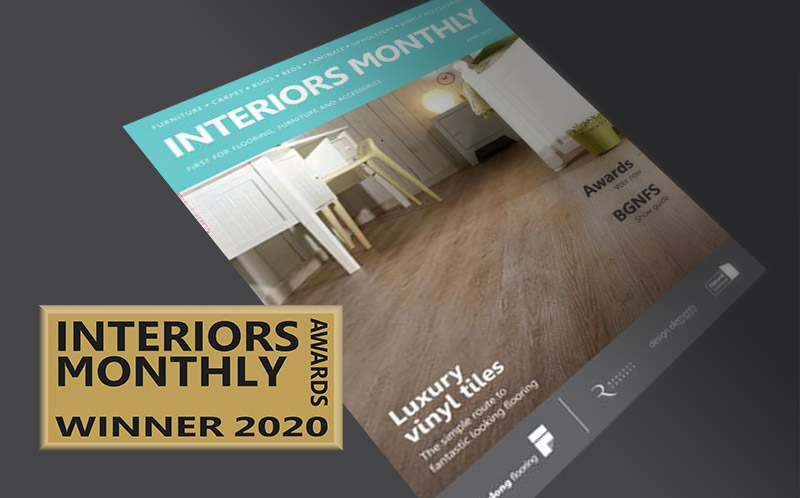 Once again Interfloor is proud to have been awarded 'Best Underlay Manufacturer' by Interiors Monthly magazine.
"I know that all the team at Interfloor will appreciate this award more than ever this year. It's been a tough period for our industry, but everyone here has worked diligently to ensure customers continue to receive the quality of products and high standard of service they have come to expect from us. Being crowned the Best Underlay Manufacturer again is fantastic and we thank everyone who voted for their continued support and custom," says Interfloor CEO, John Cooper.
The world has been rocked by the pandemic in the first half of 2020, with lockdown impacting businesses in all sectors. Flooring retailers have seen a rapid upturn in orders with pent-up demand from consumers who've been stuck indoors lifting sales for the second half of 2020.
Interfloor is confident its British-manufactured underlay brands Tredaire and Duralay will continue to be the preferred choice in the marketplace, alongside Gripperrods and Stikatak for accessories. And now with the "Best Underlay Manufacturer" award in its trophy cabinet for the second year in a row, the Lancashire-based company is planning for a busy end of the year.
"We're proud of our history and heritage and the role Interfloor has played in bringing innovations to the world of flooring. We have a fantastic portfolio which includes the three most popular forms of underlay: polyurethane foam, sponge rubber and crumb rubber. There's something for every type of application from carpets, to hard-flooring and LVT, and something to suit specific requirements whether that's underfoot comfort, noise reduction or coping with heavy footfall," says Sales Director Gary Cowley.
In response to growing demand for sustainable and eco-friendly flooring products, Interfloor has increased the proportion of its underlays manufactured from recycled products from 16% to over 70% since 2008.
It now manufactures most of its underlays from recycled material; its crumb rubber and PU foam underlays contain approximately 80% recycled content. The crumb rubber is made from recycled car tyres and some three million are recycled every year, while PU foam is made from manufacturing waste (off-cuts from the furniture and automotive industries).
So now there are even more reasons to choose British-manufactured, eco-friendly underlays from the Best Underlay Manufacturer!